In Memory
Anita S. McKinley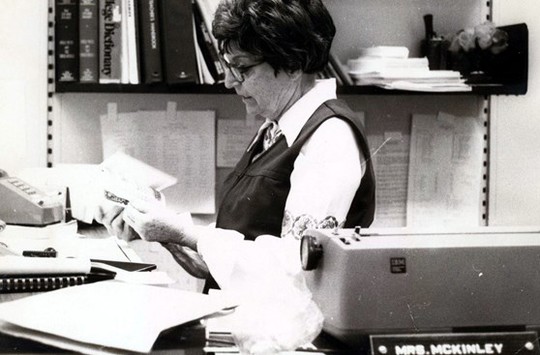 Mrs. McKinley - hard at work at her desk! This is the way most of us remember her.

Inline Image Not Displayed
HAMPTON - Anita Inez Stewart McKinley, age 96, went home to be with her Lord and Savior on Sunday, May 18. She is predeceased by her husband, Rex Vincent McKinley, Sr.; her parents Robert Marion and Josie Hudson Stewart; her brother, Robert Marion Stewart, Jr.; sister Hazel Stewart Atcheson, and granddaughter-in-law, Diane McKinley. Anita was born on a farm in Crawford, Mississippi. She was baptized at the age of ten in the Noxubee River and attended Bethesda Baptist Church. She developed a love for reading from her grandmother. Anita was Valedictorian of her high school class. She attended Mississippi State College for Women before becoming a civil service secretary at the corps of engineers in Memphis, Tennessee. It was there she met the love of her life, Rex Vincent McKinley, and they were married in 1939. They lived in Oklahoma until her husband served overseas in World War II. She resided and worked in Vicksburg until he returned home. They then lived in Panama where Rex was a Civil Engineer. In 1952 they returned to the states to Hampton, VA, where Rex worked for Tactical Air Command at Langley Air Force Base until he retired in 1970. Anita worked as a Secretary for the Hampton City School System for many years. She worked at Buckroe Junior High, Kecoughtan High, Pembroke High, C. Vernon Spratley Middle School, and Phoebus High School. She also was secretary for the Superintendent of Hampton City Schools until her retirement in 1985. Anita was an active member of Hampton Roads Baptist Church since 1951. She played the piano, taught Sunday School, Training Union, Vacation Bible School, and led mission groups of all ages as Woman's Missionary Union Director. Her love for missions extended worldwide as she encouraged mission study. She was able to go back to her beloved Panama on a mission trip in her retirement years. Anita nurtured her love for all types of reading, including memorizing English poetry and Literature. She also enjoyed cross word puzzles and watching sports, especially Dallas Cowboys football, New York Yankees baseball, and Duke basketball. She was able to travel to Arizona and the Grand Canyon with her husband, Rex, before he passed away in 1974. In recent years Anita lived at Mennowood Retirement Community, where she had a large family of friends. She enjoyed the Praise, Prayer, and Promise Worship times there, the weekly Bible Studies, Spelling Bees, Name That Tune and McKinley Melodies when she played the piano. She also enjoyed playing for patients in the Comfort Cove Unit. Anita is survived by her son, Rex Vincent McKinley, Jr. and his wife, Chris; daughter Judith McKinley Fernald and her husband, Tom; grandchildren, Michael Stewart McKinley, Laura Marshall McKinley, Sarah Fernald Hubard and husband, Knox, Bradley Vincent Fernald and wife Melissa, Laurianne Crawford and Mike Rowles; great-grandchildren, Kelly McKinley, Patrick McKinley, Grayson McKinley, Samuel Hubard, Anne Hubard, Bryson Fernald, James Brandon Powell, and Shane Burch; sister-in-law, Almetus McKinley Reeder, and brother-in-law, George Ethel Bobb, Jr. and many nieces and nephews. Visitation will be Thursday, May 22 at 11:00 a.m. at Parklawn-Wood Funeral Home, 2551 N. Armistead Avenue, Hampton, VA 23666. A celebration of Anita McKinley's life will immediately follow at 12:00 Noon. Interment at Parklawn Memorial Park. The family would especially like to thank the Riverside Hospital Nurses and Staff on the Fourth Floor Annex for the loving care given to their Mother and the staff and residents of Mennowood Retirement Community for their special love, care, and support, along with the Medi Home Health and Hospice. In lieu of flowers, memorial contributions can be made to Hampton Roads Baptist Church, 347 Hampton Roads Avenue, Hampton Virginia 23661, or Mennowood Retirement Community, 13030 Warwick Boulevard, Newport News, VA 23602. Friends are encouraged to visit www.parklawn-woodfh.com to share memories and words of condolence with the family. Arrangements are under the care of Parklawn-Wood Funeral Home, 2551 N. Armistead Avenue, Hampton VA 23666.